Jamie Mulholland to participate in LMA Philadelphia's "All-Star" Panel
May 05, 2014
Along with some esteemed colleagues, Jamie Mulholland will participate in a panel discussion and networking event for the Philadelphia Chapter of the Legal Marketing Association. The chapter's event announcement for this "Springtime Celebration" cites the opportunity to "hear from a panel of LMA All-Stars who have taken their legal marketing careers in interesting and exciting directions [and how they] selected their paths, grew their careers, and benefited from LMA along the way."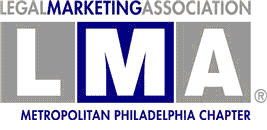 With a career spanning the public relations, event management and broadcasting fields, Jamie Mulholland has focused exclusively on marketing for law firms for the last 14 years. She is a founding board member, past president and current committee chair for the LMA's Philadelphia Chapter and was twice named to the "Best of" list for PR firms serving the legal industry by The Legal Intelligencer, the oldest law journal in the United States.
In addition to Mulholland, panel members include Timothy B. Corcoran, Principal, Corcoran Consulting Group (and current LMA International President); Tricia M. Lilley, Chief Marketing Officer, Fox Rothschild; and Joshua M. Peck, Senior Media Relations Manger, Duane Morris.
The event takes place from 5:30 P.M. to 7:30 P.M. on Thursday, May 15 at the Liberty View Ballroom of the Independence Visitor Center at 6th & Market Streets in Philadelphia. Cocktails and appetizers will be served by the award-winning Brulee Catering by Chef Jean-Marie Lacroix. The cost is $30 for members, and $55 for Nonmembers.
To learn more or register, visit www.legalmarketing.org/metrophilly.