Article: "Me, LLC: Marketing activities that you can take to your next (or any) firm."
March 22, 2016
The following article was published in the March 22, 2016 "Top Laterals" supplement of The Legal Intelligencer. Download a pdf of the publication.
Me, LLC: Marketing activities that you can take to your next (or any) firm.
You've joined a new firm as a lateral partner.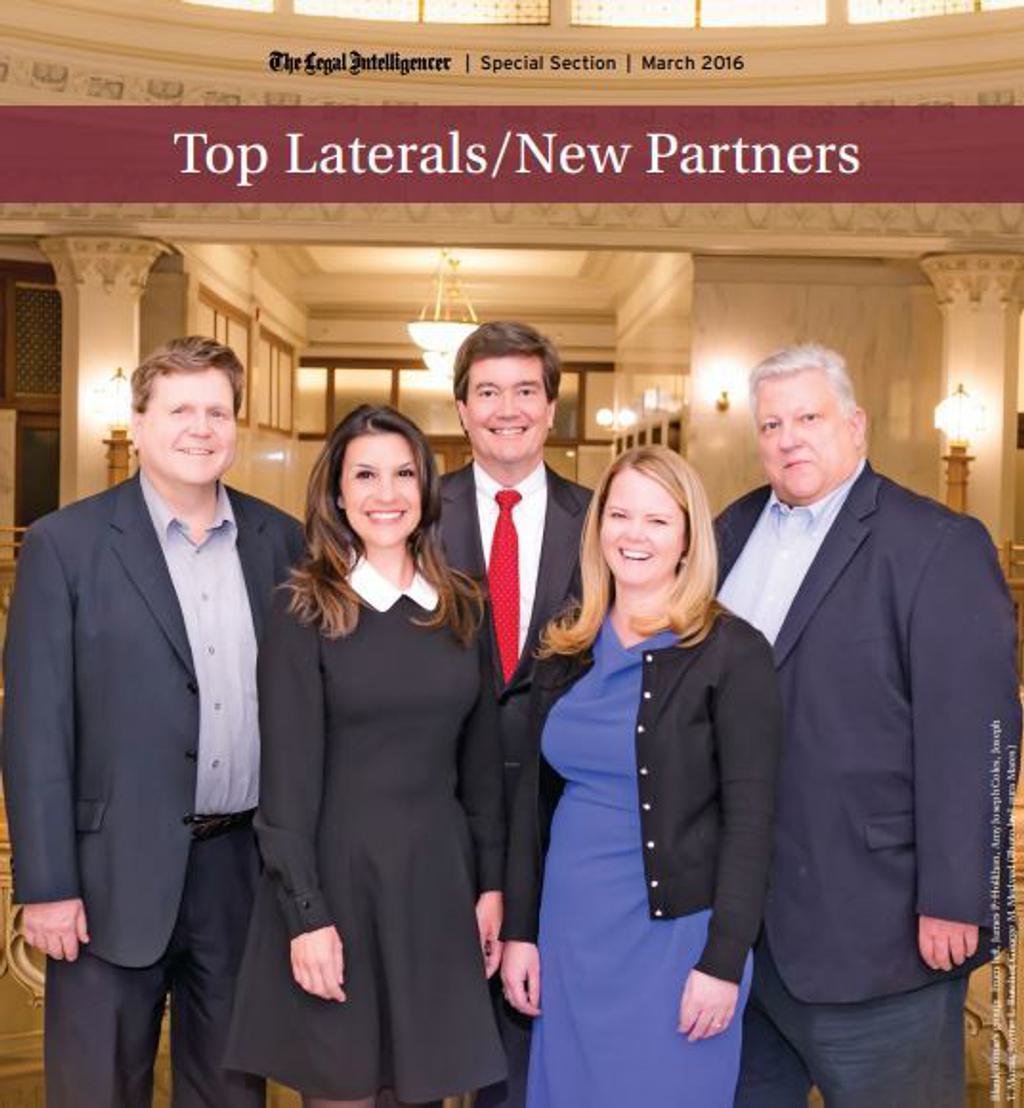 However the opportunity came about – through a personal connection or via a recruiter – one thing is for sure: you're not there for your good looks, it's for your good looking book (of business). It is understood that you are a rainmaker, and your new partners are hoping to feel the spray on their faces as you walk through the door. In the immortal words of David Bowie and Freddie Mercury: "Pressure!"
Everyone knows the market situation of recent years, and there are countless law firm studies and surveys with statistics on how equity partners feel more pressure than ever to keep things lean and mean. There are high expectations both ways: from your firm in terms of billing and cost efficiency, and from you in terms of support. After all, how can you keep that book looking good without administrative support? How do you make this leap with the assuredness that it will be worth it on the other side (for both you and the firm)? Thinking about all that can be distracting, shifting your focus away from your practice to an all-consuming preoccupation with what the firm needs from you - where their numbers need to be and what their goals are.
In this situation like this, it helps to go back to the basics. Consider how you got where you are: by enjoying what you do, doing it well, and employing simple principles of law firm marketing. Remember that other Philadelphia success story, Rocky Balboa? Whenever he was rattled by the lights and glitter of notoriety, it was always about returning to fundamental values and practices that got him though. By doing that yourself, you will always plant the seeds of success, wherever you go.
Meet the marketers.
If your new firm has an in-house marketing staff, they'll have an orientation process in place. Don't wait until you are there to get started. Yes, you are very busy wrapping things up at your current firm, but surely you have time for a phone call? Better yet, you eat, right? Chances are your new marketing director eats, too, so maybe you could grab breakfast at the same place and the same time to discuss your first collaborative projects? Not only does this get them started working for you, it establishes a valuable personal connection in the firm.
There's a retired NFL referee, Jim Tunney, who is a popular motivational speaker. He tells a story about being the keynote speaker for a luncheon where he asks a young man walking by if he can have more butter. The kid says, "I can't promise anything, but I'll check." Tunney says, "Do you know who I am?" and rattles off his professional accomplishments, noting that he is the featured guest at the lunch. The kid says, "Do you know who I am? I'm the guy in charge of the butter." Obviously a yarn, the story reinforces how people take pride in their jobs and establishing a respectful bond from the get-go with those who support you will go a long way toward "getting more butter."
Besides, this is not just another task to check off. This is an exciting, ongoing collaboration: the promotion of you! Certainly, talk about the initial things that are a part of bringing you into the fold – the announcements and listings, etc. – but ask them what they do for other partners. What initiatives have people found success in launching? What ideas do the marketers themselves have? What actual tools do they provide? I once spoke to a group of attorneys and, citing a study where mail…actual physical mail…is surging in popularity and retention because of the electronic overload these days, and mentioned that a handwritten note is a tried and true tactic. "We don't have notecards," lamented one attorney. A small voice in the back of the room, a member of the marketing staff attending the event, said, "Um…yes, we do." No one in the room was aware of this. They never asked.
No marketer? No worries!
If, for some reason, the firm you are joining doesn't have a marketing professional on staff, here are your "mission critical" items:
Write your bio. Check out the other partners' bios on the website, and prepare one for yourself in a similar format. If you walk in the door with your profile in a word doc ready to go, it can be on the website within a day. Note: if the bios separate out the "name, rank and serial" number stuff (degrees, admissions, etc.), try to avoid re-stating that in the dialogue of your bio. This is where you should describe your philosophy or approach, and how you are different from others who do the same work. Biographies are consistently one of the most popular pages of a firm's website. Use that valuable real estate to really show who you are.
Get that picture ready! High resolution only. Professionally done. Get the image on several CD's or flash drives in case you need to loan one out for something and don't get it back. The sooner you have your picture, the sooner the announcements and publicity can happen. Don't wait to get it taken at the new firm. If they pay for one, fine, but use the one you have to get things in motion right away.
Write your news release. If your firm doesn't contract with an outside publicist, this is as simple as looking at the "people" pages of the publications you want to hit. Pretty much all of them give the email address where to send the information. Send your bio and photo. They'll follow up with any questions. It's truly that easy.
Get business cards. Reach out to whoever at the firm handles printing and make sure they're on your desk on day one.
Leave a bread crumb trail: Make sure people know how to find you. Update your contact information right away with the major listing sites (Avvo, Findlaw, LinkedIn, Martindale Hubbell, Super Lawyers), the main statewide directory listings for all jurisdictions in which you are admitted, and all organizations with whom you have a membership (so they can update their directories).
Also, whether your new firm has an in-house marketing staff or not, you may want to consider investing in a coach. This by no means undermines or replaces the projects or tasks of any firm's marketing staff. In fact, they often come up with ideas and feedback on how to better or more cost-effectively promote your practice. But, even better, they work for you and you alone, wherever you go. They are focused wholly on your development and growth, helping you set objectives and goals and gently reminding you when something has fallen off your radar. Best of all, you set the terms of your coaching agreement – weekly, monthly, even quarterly – so that it works for you.
Now that you've joined the firm, leave the firm.
You have many things in place now: your marketing staff, your promotional support, perhaps even your coach. What now? YOU! Your face, that is. It's time to let people see you in your new role. It's time to get out. Take the list below and do one of each of these things in your first six months (with the exception of the last one, which you should be doing regularly):
Attend a conference. Locally, in the region, or across the country. Something industry-related, or tied to a geographic professional group. Pick up some new contacts and get rid of those shiny new business cards.
Go to a social/networking event. A cocktail reception. A popular annual black tie event. Chances are, you'll meet new people or reconnect with someone you haven't seen in a while. Everyone is a potential referral source. Everyone. Never forget that.
Get yourself a speaking engagement. Think of a topic. Write two sentences on what you could talk about on that topic. Add a catchy title. Now, email that to a group to whom you'd like to present. Call the most popular CLE provider in the state, or even one of those legal seminar factories. They'll do all the planning and promotion while you prepare your presentation. The result: your name, in lights, in front of people who can send business or talk highly about you.
Take a hike. Or run. Or knit. Seriously. You will come up with some of your best ideas and solutions during this time, and there is a clinical reason for this. The rhythmic, repetitive motion engages a completely different part of your brain, the same part that is used in meditation. These things reduce stress, improve concentration, slow aging, and improve your physical health.
Congratulations! You have built a successful practice. You attend to it and cultivate it every single day. Now, make a promise to take care of the most important thing at the center of that practice: YOU.